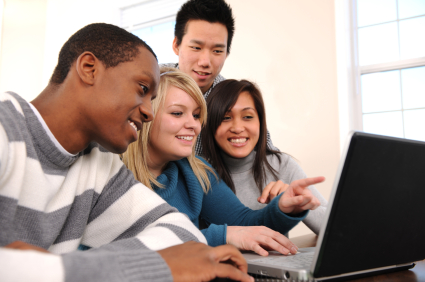 Do you need to justify your decision to flip? Are you wondering if flipped strategies actually work?  Do you need evidence for flipping and student learning?  Here are 5 flipped strategies with summaries of published peer-reviewed research (both past and present) to support a few flipped techniques:
Pausing:
One easy way to flip a class or training session is to integrate brief pauses when giving a lecture or presentation.  For example, in a one hour class, if you are lecturing, try to pause two or three times for two or three minutes and allow students to review and share their notes with a peer.  Ruhl et al. (1987) found that that this technique impacted short term memory recall and long-term retention.  Prince (2004) summarized, the class that used the pause procedure, "averaged 108 correct facts compared to 80 correct facts recalled in classes with straight lecture."  Prince (2004) continued, "Test scores were 89.4 with the pause procedure compared to 80.9 without pause for one class, and 80.4 with the pause procedure compared to 72.6 with no pause in the other class."
Chunking:
Chunking is when you divide your lecture into parts and then give students a few minutes in between to process what they've heard.  Most instructors will group common parts of a lecture or groups of similar information into one chunk and then allow students time to work through a problem or discuss the information with other students.  Wankat (2002) found a variety of research articles which confirm that a student's attention span during a lecture is approximately fifteen minutes. Hartley and Davies (1978) found that after a lecture, students remembered 70 percent of information presented in first ten minutes only 20 percent of information presented in last ten minutes.
Solving:
Find ways for students to engage in problem-solving and analysis during class.  Real-world case studies, practice problems, and analysis exercises allow students opportunities to practice their skills, learn from peers, and assess their knowledge immediately so you can offer corrections or clarification.   Weiman, Deslauriers, and Schelew (2011) draw on research in cognitive science, neuroscience, and learning theory. In their recent study, they used a technique called "deliberate practice" which challenges students to engage in the same practice and problem-solving techniques scientists apply to research. They compared an introductory course using deliberate practice to an introductory course using straight lecture.  Students engaged in deliberate practice scored twice as high on a 12-question multiple-choice test of the material than those in the straight lecture.  As a side bonus, attendance increased by 20% in the class using deliberate practice.
Interacting:
Designing opportunities for students to interact and engage in active learning experiences is the core of the flipped classroom.  Regardless of which type of flipped model you use in your classes, research continues to provide evidence that interactivity and engagement enhance learning, retention, and motivation. Hake (1998) analyzed data for over 6,000 students in introductory physics courses.  Prince (2004) summarized Hake's findings and explained, "Test scores measuring conceptual understanding were roughly twice as high in classes promoting engagement than in traditional courses. Statistically, this was an improvement of two standard deviations above that of traditional courses."
Cooperating:
Most flipped classes usually require students to cooperate in groups.  Whether you use semester-long teams or small group activities within each class (or both), students cooperating with other students has been shown to increase learning gains.  Springer, Stanne, and Donovan (1999) determined that group work results in greater academic achievement, more favorable attitudes, and increased persistence. Pascarella and Terenzini (2005) found that cooperative learning and group work improved student learning by a .51 standard deviation.
Hopefully these resources will help you justify your decision to flip or encourage you to try at least one flipped strategy in your class, training session, or meeting.  Our brains need stimulation, excitement, and opportunities to make meaning.  Flipped strategies will help your students learn how to start making meaning for themselves as they struggle to learn new ways of thinking and solving problems in our rapidly changing world.
Resources
Deslauriers, L., Schelew, E., & Wieman, C. (May 2011). Improved learning in a large-enrollment physics class.  Science. Vol. 334, no. 6031, p. 862-864
Hake, R. (1998). Interactive-engagement vs. traditional methods: A six-thousand-student survey of mechanics test data for introductory physics courses. American Journal of Physics. Vol. 66, No. 1, p. 64.
Hartley, J., and Davies, I. (1978). Note taking: A critical review. Programmed Learning and Educational Technology. Vol. 15. p. 207–224.
Millis, B. Promoting deep learning. IDEA Paper No. 47. The Idea Center. Retrieved from: http://www.theideacenter.org/sites/default/files/IDEA_Paper_47.pdf
Pascarella, E.T. & Terenzini, P.T. (2005). How College Affects Students: A Third Decade of Research. San Francisco, CA: Jossey-Bass.
Prince, M. (2004). Does active learning work? A review of the research.  p. 1-9. Journal of Engineering Education.
Ruhl, K., C. Hughes, and P. Schloss (1987). Using the pause procedure to enhance lecture recall. Teacher Education and Special Education. Vol. 10, Winter. p. 14–18.
Springer, L., Stanne, M.E., & Donovan, S. (1999). Effects of small-group learning on undergraduates in science, mathematics, engineering, and technology: A meta-analysis. Review of Educational Research. 69, 21-51.
Wankat, P. (2002). The Effective Efficient Professor: Teaching, Scholarship and Service, Allyn and Bacon: Boston, MA.